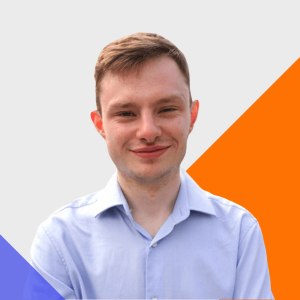 Adam Sturgeon
(he/him)
Commercial Manager
Joined Quirk in January 2022
From Prestwick, Scotland
"Hope's the fuel of progress." 
Can you describe what you do at Quirk in 5 words?
Managing sales within business context.
How did you come to join the Quirk team?
I started out studying business management at the University of Aberdeen in September 2019, before joining Team Aberdeen University (TAU) Racing's business team, working on developing a business model for a Formula Student car. Moving towards the second half of my degree, I wanted to take the skills that I learned from both of these experiences and apply and grow them in a real-world setting.  
Why did you choose to work at Quirk?
What drew me to Quirk was the interesting and exciting service offering and the diverse experience of the team.
What drives you in your work?
Having a tangible impact on overall success.
What do you like about working at Quirk?
The independence and trust I've been given. I also enjoy the practical learning of concepts which I've covered in university, as well as expanding horizons around strategy and organisational change.
What professional accomplishment are you most proud of?
Building out our Customer Relationship Management (CRM) from scratch, combining multiple different sources of data.
What is the biggest challenge you have faced in your career?
Balancing both my university and Quirk workloads while still maintaining a high quality of work.
What quote inspires you?
"Hope is the fuel of progress."