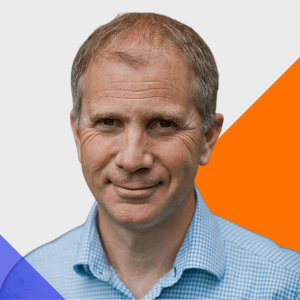 Nick Page
(he/him)
Senior Consultant
Joined Quirk in June 2022
From the Midlands, England
"Making your mark on the world is hard. If it were easy, everybody would do it. But it's not. It takes patience, it takes commitment, and it comes with plenty of failure along the way. The real test is not whether you avoid this failure, because you won't. It's whether you let it harden or shame you into inaction, or whether you learn from it; whether you choose to persevere."
Can you describe what you do at Quirk in 5 words?
Develop, coach, strategy, learn, deliver.
How did you come to join the Quirk team?
I've worked in the tech sector all my career, training as an engineer before transitioning into software and moving to Microsoft in the early 90s. Whilst loving the problem solving, I wanted to get closer to customers and their problems, so I joined a software house in London, helping to grow it from approximately 15 to 50 people. I then returned to Microsoft, where I remained for 18 years in a variety of technical, business and leadership roles.
This is where my interest in leadership grew – as I started to lead teams and divisions, I realised that my style was very much one of coaching and I started to craft various team development activities. Leaving Microsoft in 2018, I became accredited as a coach and set up my own business providing advice to tech start-ups, but all the while I have been wanting to pivot away from core tech and into a role where I am helping people and teams to develop.
Why did you choose to work at Quirk?
Quirk was an opportunity for me to move my career in a new direction – leadership development and culture. This is something I've been passionate about for a long time and have practised within previous roles, but not been able to make my dedicated focus. It was also an opportunity to work alongside very different people which is exciting, and will, I'm sure, bring different challenges.
What drives you in your work?
I like new challenges, problems to solve and opportunities to help people. I also like to see shorter-term, direct impact from what I know and do.
What do you like about working at Quirk?
I love working with people who have different, more diverse experiences than my own, and who share a desire to help people. I can also see a great opportunity to shape and grow Quirk into something really special. I love the small company that is thinking big!
What professional accomplishment are you most proud of?
Presenting to over 1,500 people at the launch of Microsoft Visual Studio 2005. What a buzz! I was also responsible for recruiting and developing graduates over a 3-year period, during which we were the only division with 100% graduate retention. Other leaders from across Microsoft were approaching to ask how we did it! Lastly, hitting the annual UK target for partner Windows compatible software, for which I was personally responsible, in just 3 months, ready for launch.
What is the biggest challenge you have faced in your career?
Working out, acknowledging and appreciating my authentic self, to then enable me to determine my career trajectory after leaving Microsoft.
What quote inspires you?
Barack Obama: "Making your mark on the world is hard. If it were easy, everybody would do it. But it's not. It takes patience, it takes commitment, and it comes with plenty of failure along the way. The real test is not whether you avoid this failure, because you won't. It's whether you let it harden or shame you into inaction, or whether you learn from it; whether you choose to persevere."